Tiger Milk Mushroom is a Malaysian National Treasure. It has more than 400 years history of use to treat lung & respiratory diseases such as asthma, cough and sinus, joint pain, cancer, chronic hepatitis, gastric ulcer and as a general tonic. This mushroom also relieved the chronic cough of Malaysia's 4th& 7th Prime Minister, Tun Dr. Mahathir Mohamad.
Wild Tiger Milk Mushroom is only distributed in tropical forest within South East Asia. Its medical potency is found in its sclerotium which grows underground.
The occurrence of wild Tiger Milk Mushroom is limited and scarce, making its collection a difficult task and hence its supply is limited.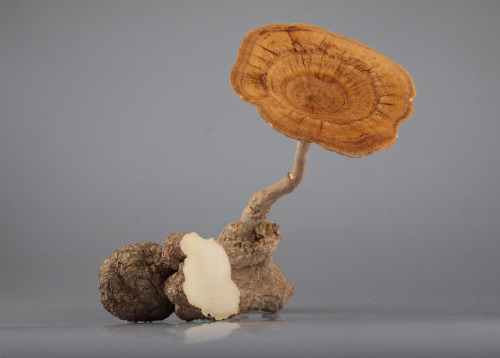 WHAT IS LiGNO TM02®
LiGNO TM02® is a standardized Tiger Milk Mushroom sclerotia powder produced using our proprietary solid-state fermentation technology. LiGNO's proprietary process ensures and preserves the maximum content of its active components. This powder is offered in bulk powder form as an ingredient for your formulations.
The safety of LiGNO TM02® has been assessed scientifically through extensive preclinical toxicological evaluation and clinical validation.
LiGNO TM02® Active Components
Scientifically Validated Bioactivities of LiGNO TM02®
Anti-inflammatory. Immunomodulating. Bronchodilating. Anti-asthmatic Activity. Antiproliferative. Antidiabetic. Anti-AGE. Antioxidant. Neuritogenic Properties.
Peer-reviewed data supports LiGNO TM02® efficacy and shows that the ingredient can help to:
.Improve lung & respiratory health .Improve general immunity .Maintain joint health .Relieves allergies .Protect against harmful oxidative stress .Promote healthy energy levels and mental clarity .Maintain vitality & overall wellbeing
| | |
| --- | --- |
| | LiGNO TM02® is a special variety of Tiger Milk Mushroom (LiGNOsus rhinocerus) screened from 3000 strains of Tiger Milk Mushroom from the Malaysia rainforest (Reg. No.: PVBT010/11) and registered under the Protection of New Plant Varieties Act (PNPVA), Ministry of Agriculture, Malaysia. |
| | The authenticity of the strain is confirmed by DNA identification. |
| | LiGNO TM02® is produced using food based nutrients instead of soil or chemical substances |
| | Free from pesticides, fertilizers and other chemical additives. |
| | Free from heavy metals, alpha toxin and microbial contamination. |
| | LiGNO TM02® is the ONLY Tiger Milk Mushroom grown and processed in a controlled, clean lab system which is ISO 22000, GMP, HACCP, Halal and Organic certified. |
| | LiGNO TM02® is recognized by MOA, MOH, MESTECC. |
| | Post harvesting processing technology ensures the bioavailability and consistency of LiGNO TM02® |
| | The ONLY Tiger Milk Mushroom active ingredient that is scientifically proven to the general standards of safety, quality and efficacy. |
| | The ONLY Tiger Milk Mushroom active ingredient with human safety data. |
| | 90% of Tiger Milk Mushroom scientific publications are based on LiGNO TM02®. |
| | The effective dosage & bioactive secondary metabolites compounds determined by scientific studies. |
| | The monograph of Tiger Milk Mushroom published by MOH is based on the data provided based on LiGNO TM02® (Gold standard for Tiger Milk Mushroom). |
LiGNO TM02® Functional Mushrooms Active Ingredients
>>Click here to explore Other Functional Mushrooms Active Ingredients<<